A Brief History
of Gondwana Sanctuary
Some Early Residents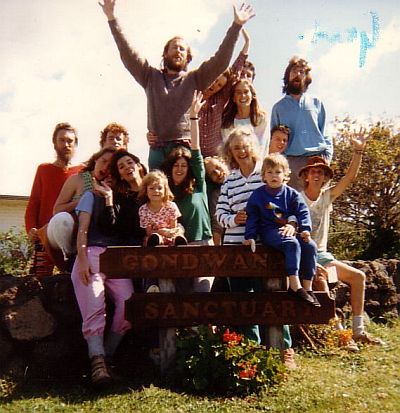 Photo about 1990 - Click to enlarge
Gondwana Residents 2002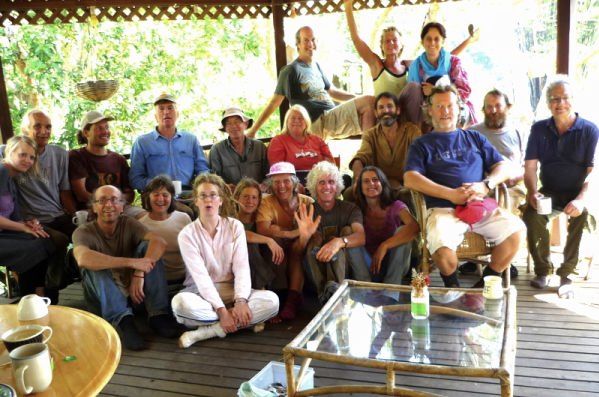 Photo 2002 - Click to enlarge
Gondwana Sanctuary
Gondwana Sanctuary is an intentional community at Tyagarah NSW, near Byron Bay on the far east coast of mainland Australia. It was initially formed in 1987 and has undergone extensive changes since then - in the shareholders and residents; in the community structure; in the land and housing infrastructure.
From the Dreamtime

Two groups of stones were discovered in 1965 by a tractor operator clearing land at the top of Grays Lane. They lay in spiral patterns about three feet across. These stones were entrusted to the guardianship of the late Mr Russell Maslen of Mullumbimby, and are now cemented into an approximation of their original pattern at the entrance to Mullumbimby Heritage Park. The land around Tyagarah was once lush forest, through which wove the stories of members of the Bunjulung people, the Du-rung-bil, Minjangbul and Arakwal.
The Search for a Site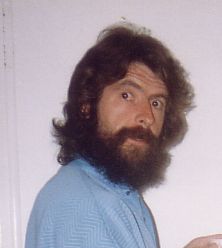 In mid-1986, Charlie Walker (Bhakta) began looking for land around Byron Bay, and he eventually located 40 hectares (100 acres) of rural land, part of a larger subdivision created by farmer Albert Hancock. This was located at Tyagarah, about 10 km north of Byron Bay and contained a house and other buildings fronting onto Prestons Lane.
At the same time he was making contact with other like-minded people who were interested in intentional communities and shared a vision of community and spiritual life.
During the initial stages of purchasing the land and setting up the community legal structure, Charlie Walker, and Ron & Shirley Gould acted as trustees for the Gondwana Sanctuary development.
Gondwana Sanctuary was named after Gondwana, the ancient land mass of the southern hemisphere which included todays Antarctica, Africa, South America, India, Australia, New Guinea and New Zealand. The name also evokes the idea of restoring the land to its original rain forest state.
The Hancock Farm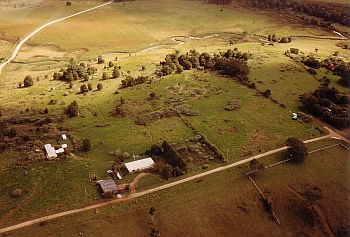 Photo aproximately 1980 - Click to enlarge
The Hancock family owned the land for several generations prior to our purchase of it from Albert Hancock in 1987. At that time the land had been cleared and was given to dairy cattle. There were approximately 250 acres to the family land and this had been successively divided up into smaller lots for sale. On the northern side of Grays Lane the land continued down to the 'ti-tree lake', an abandoned sand quarry. This wetlands area was later donated by Albert to National Parks and Wildlife.
Two disasters struck the Hancock family in the years before Gondwana Sanctuary purchased the land. Albert's father was swept from his horse to his death in a flood on Grays Lane in the early seventies. Also in the early seventies a cyclone carried away an entire house that had stood facing Preston's Lane and the ocean. The Tyagarah rail station was also destroyed at this time.
Some Key Dates
31st December 1986 – The first shareholders commenced living on the Gondwana property prior to purchase, under a license agreement with the owner.
1st April 1987 – Incorporation of Gondwana Sanctuary Pty Ltd.
22nd June 1987 – Approval by shareholders of Gondwana Sanctuary Pty Ltd of the allocation of residential sites of the proposed Multiple Occupancy.
8th October 1987 – Purchase completion of the property by Gondwana Sanctuary Pty Ltd. The delayed completion was due to delays by Byron Shire Council in approving separate titles for Albert Hancock's land subdivision.
12th July 1988 – Approval by Byron Shire Council of our Development Application for a Multiple Occupancy of 10 dwellings.
12th December 1988 – Approval by Byron Shire Council of our Development Application for an additional 11th dwelling site.
15th January 2008 - Byron Shire Council approved our development application to convert Gondwana from a Multiple Occupancy development to a Community Title development.
19th July 2011 - Gondwana Sanctuary was registered as a Community Title property, its official title becoming the Gondwana Sanctuary Neighbourhood Association.
The Early Gondwana Community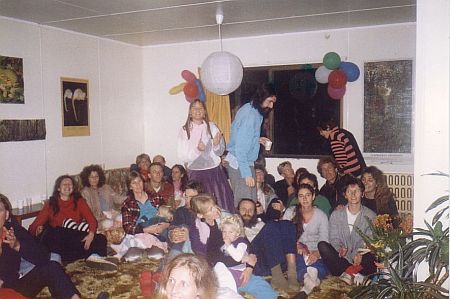 (Click to enlarge)
The first shareholders initially all shared living space in the main farmstead buildings (main house plus some rooms in the dairy complex). Over time dwellings were built on the shareholders' blocks, and the main farmstead house became our community house, which is now used for Gondwana community activities and for guest accommodation.
Some of the early shared understandings about the Gondwana community were:
We are all in this together - all have equal rights, privileges and responsibilities
Only vegetarian food on the premises
No cats, dogs or illegal drugs permitted
The main house to be a quiet meditative space for adults. Children and their parents will have living space elsewhere on Gondwana but may share main house facilities
Each shareholding has an associated house site area on Gondwana
Every Tuesday the shareholders work on the common land, and the first day of each month is our tree-planting day
Gondwana shareholder meetings are to be held each Monday evening.
At a later date more extensive "Gondwana Understandings" were agreed to, and a formal company constitution for Gondwana Sanctuary Pty Ltd was adopted.
Throughout the life of the community , "vision meetings" have been held from time to time as a way of talking through broad community questions about community participation, land issues and building projects.
Shareholders
The initial shareholders of Gondwana were Charlie Walker (Bhakta), Ron & Shirlee Gould (Agata & Anurati), Prem Sahi, Patricia Baker (Saroja), Rodney Murray (Bodhi), Robin Dulihanty (Prashanti), Gerd Kuhlmann (Aparimit), Phillip Hart, Richard Hart, Joanna Steeghs, George Charlton (Neeten), Wendy Mills, and Subodhi (Sky).
Of these founding shareholders only Gerd Kuhlmann and George Charlton remain today as shareholders of Gondwana.